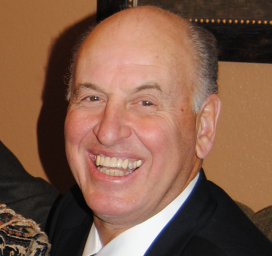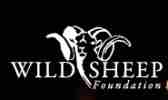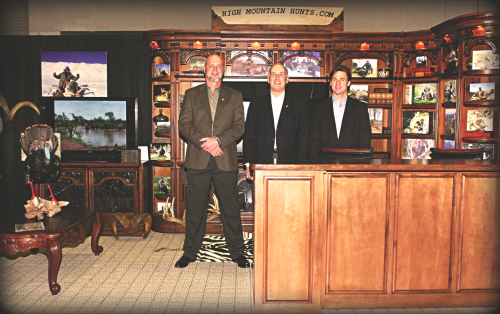 YOUR GUIDE TO WORLD HUNTING!
2014 - 2015 SHOW SCHEDULE - VISIT US
Texas Trophy Hunters-Houston
August 1-3, 2014
Texas Trophy Hunters-Fort Worth
August 15-17, 2014
Texas Trophy Hunters-San Antonio
August 22-24, 2014
Dallas Safari Club
January 15-18, 2015
Houston Safari Club
January 23-25, 2015
Safari Club International-Las Vegas
February 4-7, 2015
Louisiana Sportsman Show-Gonzales
March 12-15, 2015
World Deer Expo-Birmingham, Al
July 17-19, 2015
Louisiana Outdoor Expo-Lafayette, La.
July 24-26, 2015

Thank you for visiting our website. We hope you find the information helpful. We have endeavored to include the things that we have learned and what we would want to see if planning our own High Mountain Hunt. The ever-changing world of hunting requires diligent attention to detail, the size of which could fill a book. We have attempted and have brushed only the tops. Scroll down on the left-hand side of the page to view hunts offered.

Warning High Mountain Hunting is Extremely Addictive!

Why choose me and my team? I have traveled to sixty-one countries of the world, and most roads weren't paved. I have hunted with some of the best and a few of the worst. I am Life Member #93 of the Wild Sheep Foundation (formerly Foundation for North American Wild Sheep) and served as Treasurer and Vice-President. I served as Chairman of the Budget, Audit, and Investment Committees, am presently on the Records Committee and the Ethics Committee of The Boone and Crockett Club and am an Official Measurer and also an Official Measurer with S.C.I. I was a Charter Member and President of the Texas Chapter of the Foundation for North American Wild Sheep (now Texas Bighorn Society). I am a Life Member of the Dallas Safari Club, Houston Safari Club, Safari Club International, Wild Sheep Foundation, Texas Bighorn Society and the National Rifle Association. For twenty years, I was a name at Lloyds of London. I've been thrown, bitten, kicked, shot, whipped, humbled and occasionally wrong. I'm here to help you, and I'm not with the government. I know how the rubber meets the road and have personally experienced transporting and packing my own string of horses, outfitted, guided, cooked and backpacked for six or eight hunters for weeks. I have spent over fifty years gathering information through other hunters and travelers. I have been blessed by paying for my share of overpriced camping trips delivered by unreliable hunting outfitters, and I have shared a fire with some of the best in the premier places of the world. "Good judgment comes from experience and a lot of that comes from bad judgment". Wisdom is the reward for listening over a lifetime. When you choose High Mountain Hunts, all this experience is included in the price. I am qualified to give advice on the subject.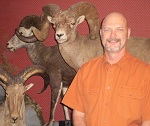 Lee Shetler is Vice President of Marketing. Lee majored in Criminal Justice and started his career in Law Enforcement with the Dallas County Sheriff's Dept. before moving to the Arlington Texas Police Dept. where he worked for over 31 years. He retired from the Arlington Texas Police Department after a combined 34 years in Law Enforcement. As a career Law Enforcement Officer he worked as a Detention Officer, Communications Officer, Patrol Officer, Field Training Officer, Vice & Narcotics Officer and as a Supervisor in the Patrol & Burglary Division. He maintained expert marksman classification with both agencies. He has hunted in over a dozen states & four Canadian Provinces where he has completed seven hunts. He has completed two African Safaris, to Mozambique & South Africa & while in Mozambique harvested all animals on his list with a muzzleloader rifle. He has also hunted in South America and several Mexican states. Hunting is his passion though a few would argue that it is his obsession. Lee says that he is "obsessed with his passion." He was a founding member of the Underwater Search and Recovery Team for the Dallas County Sheriff's Dept. and currently holds a Senior Advanced Scuba Certification thru PADI and a Sportsman Diver Certification thru NAUI. He is well versed in Global Rescue and emergency security evacuations for crisis, war or natural disasters and field rescues for those who need hospitalization. He has first aid and CPR certifications. As you can see from his extensive law enforcement training, expert marksmanship skills and experience in search and rescue, he will be a valuable asset to any of our clients wishing to have him accompany them on their hunting treks anywhere in the world. Lee is a member of the Arlington Sportsman Club, Dallas Safari Club, NRA, Boone and Crockett Club, Wild Sheep Foundation, Texas Trophy Hunters Association and is a Life Member of the Texas Bighorn Society.
Start with a dream. Reach for the sun and should you miss, you will still end up among the stars. Prepare for making that dream a reality. One should strive to have an excellent agent, an excellent area to hunt, an excellent outfitter, an excellent guide and a commitment from all involved.
In the order of their importance:
start with a dream
choose High Mountain Hunts as your agents - EXPERIENCE COUNTS!
prepare your body and its endurance for whatever you might incur
be committed
choose the right equipment
go now as your physical abilities will diminish. You are not getting any younger. It's caused by too many birthday cakes!
CHOOSE THE RIGHT AGENT!
Excellent reputations are expensive, but bad ones are just as expensive. If a hunter goes to another country, an intelligent one must rely on the advice of an experienced agent. I've never learned anything more important than to be smarter! Choose High Mountain Hunts as your agent.
ENDURANCE
Endurance is all about you and your physical and mental abilities. If you love yourself, resolve to be healthier. Plan to hunt and get in High Mountain Hunting shape and stay that way. It's the most important thing you can do for yourself and your family. Your objective should be to increase your odds of successfully harvesting your trophy and the enjoyment of the adventure. We suggest that you consider signing up with Global Rescue. You can do so by clicking on the Global Icon above.
COMMITMENT
Many, many times success has come on the last day and hour of the hunt. Stay positive and engaged to the end if necessary. If you are not in or can not obtain High Mountain Hunting condition, visit me. I should have some answers.

When High Mountain Hunting, to enjoy your adventure one must be able to
adjust, adapt and improvise.




MANDATORY READING IF YOU HUNT WITH US -- Click Here To Know Before You Go!




© 2009 TMS. All Rights Reserved